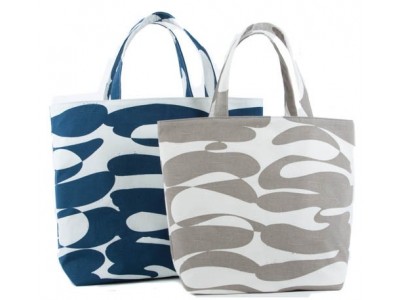 Bags are like shoes — no matter how many you own, you can never have enough. And just when you thought you couldn't fit another tote in your closet, another Maine designer debuts a drool-worthy accessories line. The latest to enter the scene is Erin Flett, a Portland-based graphic designer who lends her bold, summery patterns to an exclusive line of totes, satchels and overnight bags from Maine's own
AU
(Accessories Unlimited). We loved them so much — especially the pictured "Worn Current" pattern in Fog, at right — that we had to give one away ($79 value). We've been a fan of Erin's work for a while now, and you can read more about it in the in-depth Q&A below.
Entering is easy. Simply send us an e-mail at
kristen@mainemaven.com
with the answers to the following questions. Want extra entries? Like us on Facebook, follow our tweets on Twitter and suggest us to your friends (just let us know your username and what you did so we can make sure to count the accurate number of entries for you). A winner will be chosen at random and announced here on Thursday, May 13.
1. How often do you read Maine Maven?
2. How do you usually find out about it (Facebook, Twitter, RSS feed, direct site visit?)
3. What time of day are you most likely to read Maine Maven?
4. What is your favorite topic on the site?
5. Least favorite?
6. Do you ever have a hard time finding entries on the site? If so, any suggestions as to how to improve it?
7. Anything you wish we'd cover that we haven't already?
Thanks! Now, read on to learn more about the fabulous
Erin Flett
:
10 Questions with Erin Flett
Years in Maine
: 10 wonderful years!
What brought you here?
My parents moved here after living in Colorado, where I grew up. I wanted to be closer to my family after I graduated from the University of Kansas with a BFA in graphic design. So Maslen, (my fiance at the time) and I packed up and U-Hauled it here soon after I graduated. We visited over a long holiday break and fell in love with Maine. It is similar to the things we loved about Colorado, the trees, the landscape and the outdoors and with the ocean it was pretty perfect.
Describe your design process
:
I am a gatherer of information, materials, found objects, magazine tearsheets, photos, funky random antique items, old paper — basically anything that I come across that has something on it or with in it that speaks to me. Sometimes I have an idea or I am given art direction from a client. I work out a story board with all the things that I want to come together in a single print or a series of prints — the color, the mood, a feeling — a shape or more specific, a type of flower or maybe it's a collection of found elements that come together for a single concept. I am very inspired by nature of course, so I am always seeing patterns in things that just happen naturally. I keep my digital camera handy at all times and take photos of patterns I find. Basically all this comes together or one single amazing find becomes that big next idea, which typically leads to dozens of individual patterns all coming from that one idea. It's a long process sometimes but in the end generates a lot of variation and typically I choose one or a few that to me are the best or speak directly to what I wanted to capture. Other designs are happy accidents that happen along the way.
How does this apply to your AU line?
The AU "Worn Current" pattern is from a series of prints that are inspired by the natural markings of the tide rolling onto sandy beaches here or the rocky outcroppings of the rocks here that inspired the geometric "Island Edge." I think as a designer you are inspired by life, and everything around you. It's second nature for me to look at something and immediately get an idea of a pattern or just a element I know I want to use in the future. I have stuff piled high in my studio — I am driving my husband crazy with stuff but I think it all comes together at some point. But the act of doing for me is the beautiful part — just working, playing and reworking makes me happy and fulfilled so the end result is just me moving on from this process and being finally satisfied with what I see.
How did the partnership with AU come about?
It's a great story about how connecting with the right person at the right time creates a series of events that change your life. I was in a meeting at the University of Maine and the woman I was supposed to meet with was out sick so I was meeting with her assistant. She looked over my work for freelance graphic design possibilities and she liked some of the wedding invites I did that had pattern on them. So we were talking about pattern and I explained that I sell my prints to different manufacturers either in paper or in apparel — typically outside of Maine. She immediately mentioned John at AU and I called him that day. I was excited to find a Maine company that may need custom designs, and since it was literally 10 minutes from my house, it was perfect. John and Laurie at AU are amazing, and have a very distinct approach and they know their customer. They were very open to me coming in and showing my work and gravitated toward my hand-drawn abstract patterns. We talked about how it could work and I fell in love with the bag shapes and design — very sophisticated, well crafted bags that had a great story already. I think working with them and making the line exclusive has been a great opportunity for both of us to show case our talents. We are currently working on a third pattern for the AU FALL/WINTER/RESORT line. They want something that balances out the two prints that has more of a floral abstract vibe. I have really enjoyed our collaboration and feel they really appreciate my process.
You don't just do bags — what about those pillows?
I started working on pillows a few years ago. It has always been something I love in my own home and these first prints have been designs I have collected over the years. A pillow can change a room immediately and I think that instant gratification is perfect for me and others who have design A.D.D. (The need to change a space each season or give a space a pop of needed color). I get bored easily and like the idea of pillows bringing a space together or creating a focus point. But the new line was a necessity for me. I had to do something with all this creative energy that I had. With so many ideas, designs and prints that were not being utilized, it drove me crazy soI had to print them.
What is your favorite place to visit in Maine?
I love Tenants Harbor and the simplicity of a old but working waterfront/fishing community. The ocean calls out to me. I have to comb the beach at least once a month or more to just disconnect. My family loves taking long walks and discovering all the little things, and my 5- and 2- year-old daughters, Breshia and Aryana always lead me to see something that I would have missed otherwise. I am also a junker so I love to go to random far-out places all over Maine looking for treasure with my two little girls and my mom. We love a good bargain, and finding a cool old piece of fabric or a old bottle or what ever is so fun! I think in my future I may have to have a shop so I can display and sell all these amazing finds, but for now I buy what I love and purge often.
What other designers, artisans or craftsmen do you admire?
So many, but my personal favorite is Vera Neumann. She had a long history of design work and had a strong moral code. She started designing fabrics and murals for children's rooms as a freelancer and was the first person to put print on a bed sheet or bring bright colors to the table. I love the fact that Vera had the philosophy that you should change the art around you every once in a while because you soon stop seeing it. She had largest body of prints you could ever imagine! I hope to be old one day producing cool funky stuff like her — prints that people still find interesting and gravitate to because they are heartfelt and human. This is why I love Vera. Her work was amazing, bold and graphic and had style all her own.
Is this your day job, or do you do other work to support your creative outlets?
I am a working graphic designer with clients all over the map. I work on just about anything and in any style or format. I enjoy telling other people's stories in an amazing corporate identity, a great brochure or website. I love it all and I think doing graphic design and working on other design work keeps me from going insane, but I think being a designer for others makes you pretty intuitive and I like getting into the project and really capturing the client's soul or the guts of a project. I think we all have gifts and I think like many graphic designers you get good at reading people. Or maybe I just listen. I think that is a lot of it on both fronts. In personal work one must listen to one's inner self and while collaborating you have to listen to others words and everything in-between. I think a lot of people don't know what they want, or just can't explain it. My job is to ask the questions that create images in my mind that in return reflect this other person's ideas. It's a great challenge.
What's next?
Now that the first series of prints is out it is like a wave of relief and now I can really dive in and dig into all this stuff I have had in my head! It's so great to have a new personal outlet. I hope to come out with two lines each year. I have already started on Fall/Winter concepts that are inspired by color and found elements, but this time colors found within the earth — think muddy browns, taupes, oranges, deep greens. They are very different than the Spring/Summer launch, but all together they will tell a similar eclectic story.